How To Decorate Your Coffee Table Like A Pro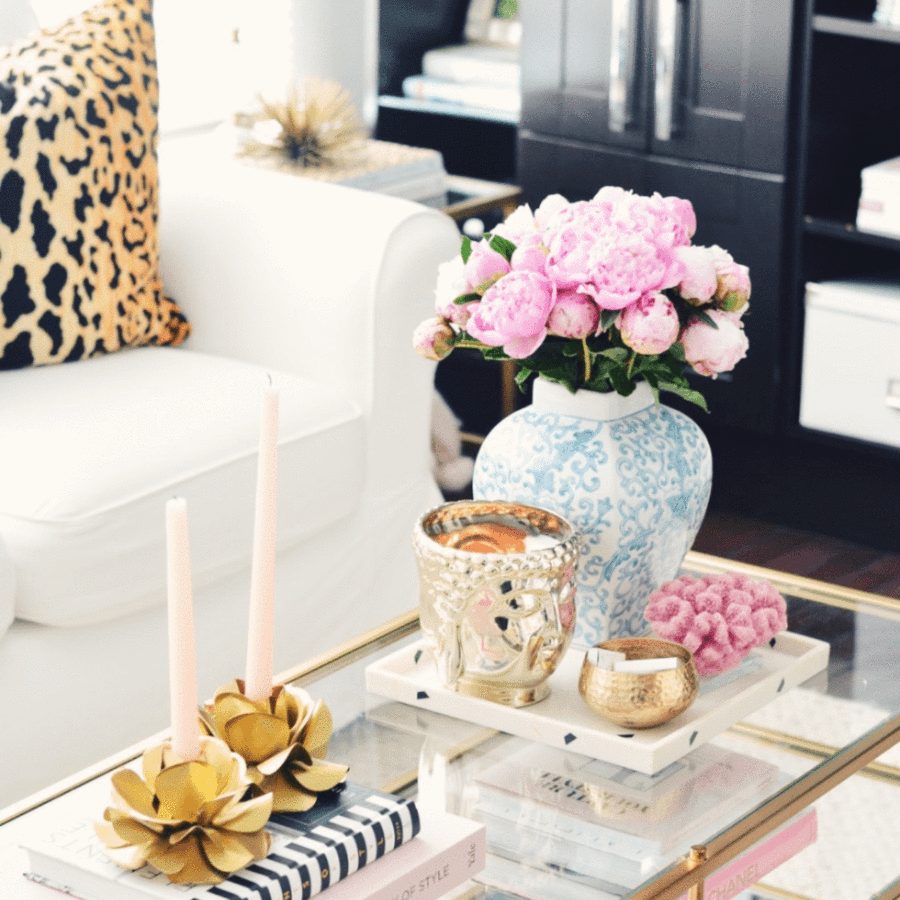 Ever noticed how aesthetically decorated Instagram or Pinterest decor photos often make you wonder if there is a potential for a beautiful and magical space in your indoors too? Let us help you encapsulate those aesthetics in your living room by embellishing the focal point - your coffee table or the centre table! Check out below decoration tips and styling hacks for the beautiful yet practical aesthetics for your next coffee table revamp.
A. RECTANGULAR OR SQUARE COFFEE TABLE DECOR IDEAS:
1. Place a rectangular/ square tray, of approximately 1/3rd of the length of the Coffee Table, in the middle or on one side of the coffee table.
2. Add 3/4 items of varying heights to the tray. You can also add more items, depending on the 
3. Arrangement 1 - Add a candle holder, a planter and a few books.
Check out the Soulful Elegance Candle Holder and Sanguine Oasis Table Top Planter from our collection to achieve similar set up.
4. Arrangement 2 - A flower vase, a decorative box or jar and a sculpture.
We have the perfect product suggestion for you to replicate this decoration arrangement - Check out our Enchanted Conch Shell Table Showpiece, The Embellished Treasure Decorative Storage Box and Blossoming Floret Table Vase.
5. Arrangement 3 - If you are placing the tray on one side, place a stack of few hardcover books beside the tray with the largest book on the bottom and the smallest book on the top and small showpiece on the top.
Our Unstoppable Victor Table Showpiece or Synergies of Life Table Showpiece can be the perfect decor accessory to place on the stack of books to enhance your coffee table decoration.
2. ROUND COFFEE TABLE DECOR IDEAS:
1. Place a round tray that is roughly 1/3 of the size of the table in the middle.
2. Add a grouping of 3 items of varying heights to the tray. Items may include planters, vases, decorative bowls, candle holders, books, small showpieces etc.
3. If you don't want to use a tray, place a round object (a planter or round showpiece) on one side of the table and place a stack of 2-3 hardcover books on the other side of the table with a small decorative item on top.
Our Chic Mystical Ceramic Tea Kettle and Sensational Vase of Flamboyance will be perfect additions to this. For small showpieces, you can check out our Miniature Unicorn Table Showpiece or Cherry Nightingale Bird Glass Showpiece.
Final Note
Decor styling is a personal choice. Use above pointers, get creative and create your own picture perfect coffee table decoration using our alluring collection of different styles of Decor Accents. Select from our vast collection of Showpieces and Figurines, Table Vases, Candle Holders, Decorative Jars, Photo Frames and many more